Lucky Lightning Slots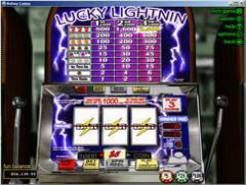 Current Jackpot
$19,942.70
Play Now
Lucky Lightning slots is a classic slot game that you can play for fun or play for real money. Mobile play for Android and iOS is part of the game design, too. Whether you're placing real money wagers or using demo play, it's worth noting that this game is plain and straightforward with no free spins, interactive bonus round, or progressive jackpots.
Before you spin the reels in Lucky Lightning slots, you have to decide how much to wager. Coin values go up to $5. You're welcome to bet one, two, or three credits on the payline.
How Much Does It Pay?
Before you spin the reels, find out how much you can win. Take a closer look at the payouts and paytable from the highest to lowest prizes.
Three 7s - 800/1600/2500 coins
Double Bars - 200/400/600 coins
Oranges - 100/200/300 coins
Cherries - 25/50/75 coins
Two Cherries or Three Plums - 15/30/45 coins
Single Bars - 10/20/15 coins
A Mix of Bars - 5/10/15 coins
One Cherry - 2/4/6 coins
Three Blanks - 1/2/3 coins
Summing It Up
To end the slot game review, here are the key things to know about the game.
Slot Game Developer - Real Time Gaming
Slot Game Type - 3 reel slot
Game Theme - Classic, fruit slot
Paylines - 1
Betting Options - 5 cents to $5 coin value for a $15 max bet
Slot Game Rating - Low volatility
Game RTP - Unknown
Slot game winners know that it's best to wager three credits on the single payline in Lucky Lightning slots. The max bet opens the door to the highest top prize. If you've wagered the highest coin value of $5, your 2,500 coin payout could lead to $12,500 in your hands. It's a fantastic amount to win.